Wednesday  April 18th @ 7:30 PM
Ages 16 + due to Language
"Jim has the unique ability of making people laugh and mystifying them at the same time" Phila. Inquire
"Comedy isn't just jokes and stories about your upbringing, it can be with a magical touch. Jim Daly's world of magic is both funny and a pleasure to watch. He has combined his magic with stories of current events and everyday situations that we all have succumb to." New York Times
"A beard as fantastic as his performance" GQ Magazine
Keeping with the times and performing for audiences of all sorts, Jim Daly can manipulate a crowd of people into frenzy of laughter, all the while keeping them enthralled with his magic. Using ordinary props and some fruit he can mix a drink and make money at the same time. Having performed throughout the country at various comedy clubs, nightclubs, TV, resorts and corporate events, Jim Daly's comedy and magic show is not to be missed. A curled and styled bright white beard catches the audience from the very beginning and from there they are set at ease with his humorous performance and bag full of tricks. It's not his style that catches you, but his personality that draws you in and keeps you there.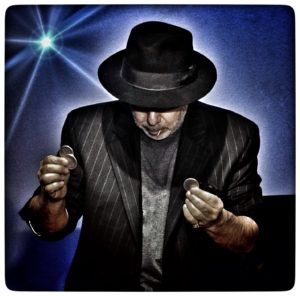 Gino's act is part stand-up… part stick- em up.  You'll Die... Laughing!
He's on the lam and wanted world-wide for stealing the show! Raised on the mean streets of South Philly, Gino has given up his criminal ways and now makes an honest dollar by thrilling audiences with his world class sleight of hand and his razor sharp wit. In different parts of the world he's known as the Mafia Magician, the Sicilian Sorcerer, or the Cosa Nostra conjurer, but no matter what you call him, you will be thrilled with his special blend of comedy and magic. Catch him if you can.
Wed  April 18th @ 7:30 PM
Venue
Smoke & Mirrors Magic Theater
2840 Pine Road
Pine Valley Plaza
Huntingdon Valley, PA 19006
Contact Us